Survival of the Fittest
Only the strongest will survive! The event is divided into 5-7 stages. Hit the stage targets to earn rewards. Those who manage to achieve ranking in the final leaderboard will earn a stack of Hero Fragments and other rewards!
Survival of the Fittest is a regular event that takes place every other week. It lasts 6 to 7 days with different tasks to hit each day. Depending on the age of your state, the objectives (and rewards) will vary.
Phase 1 – Nikola
Phase 2 – Wolfe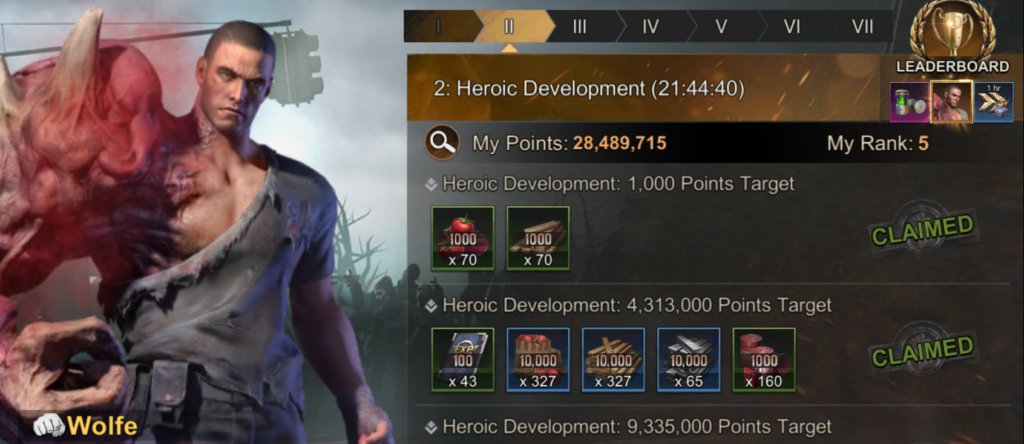 | Day | Objective | Points |
| --- | --- | --- |
| 1 - Power | Increase power by 1 through construction | 30 |
| | Increase power by 1 through research | 30 |
| | Increase power by 1 through troop training | 30 |
| 2 - Heroic Development | Make 1 spin(s) in Ray's Place. | 92,000 |
| | Use 1 Elite Hero Fragment(s) (excluding general Fragments) | 4,000 |
| | Use 1 Epic Hero Fragment(s) (excluding general Fragments) | 14,000 |
| | Use 1 Legendary Hero Fragment(s) (excluding general Fragments) | 35,000 |
| | Gather 50 Food. | 3 |
| | Gather 50 Wood. | 3 |
| | Gather 10 Metal. | 3 |
| | Gather 2 Gas. | 3 |
| 3 - Troop Training | Train a level 1 soldier | 135 |
| | Train a level 2 soldier | 180 |
| | Train a level 3 soldier | 270 |
| | Train a level 4 soldier | 405 |
| | Train a level 5 soldier | 585 |
| | Train a level 6 soldier | 900 |
| | Train a level 7 soldier | 1260 |
| | Train a level 8 soldier | 1710 |
| | Train a level 9 soldier | 2250 |
| | Train a level 10 soldier | 2970 |
| 4 - Wilderness Risk | Gather 50 Food | 3 |
| | Gather 50 Wood | 3 |
| | Gather 10 Metal | 3 |
| | Gather 2 Gas | 3 |
| 5 - Power Sprint | Use 1 Hero Gear Parts | 6600 |
| | Increase power by 1 through construction | 30 |
| | Increase power by 1 through research | 30 |
| | Increase power by 1 through troop training | 30 |
| | Upgrading troops increases power by 1 | 30 |
| 6 - Chief Gear Upgrade | Increase highest Chief Gear Score by 1 | 500 |
| 7 - Hero Upgrade | Use 1 Elite Hero Fragment(s) | 35,000 |
| | Use 1 Epic Hero Fragment(s) | 14,000 |
| | Use 1 Legendary Hero Fragment(s) | 4000 |
Phase 3 – Zoe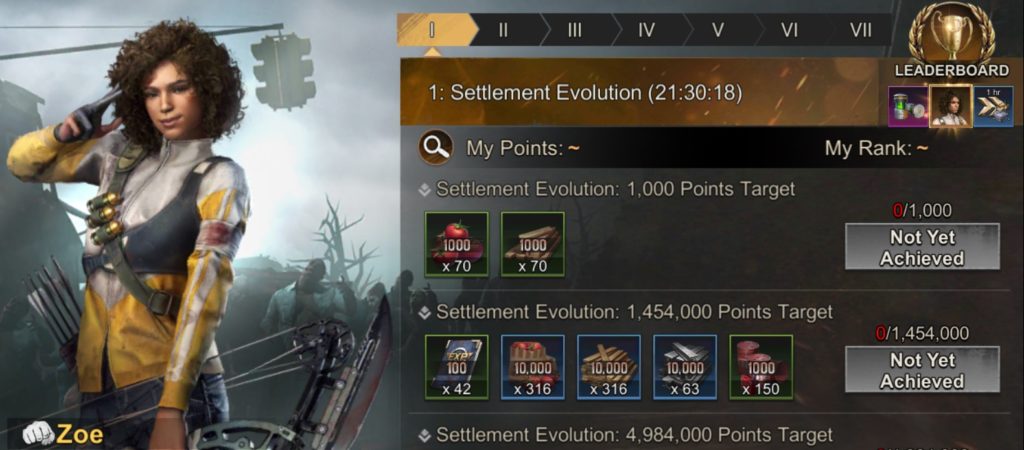 | Day | Objective | Points |
| --- | --- | --- |
| 1 - Settlement Evolution | Consumes 1 Plasma Core(s) | 100,000 |
| | Use 1 minutes of Speedups on Construction (Excludes Alliance Timer Help) | 1,500 |
| | Use 1 minutes of Speedups on Research (Excludes Alliance Timer Help) | 1,500 |
| | Use 1 mins of Speedups on Troop Training/Upgrading | 1,500 |
| 2 - Basic Power Up | Make 1 spin(s) in Ray's Place. | 400,000 |
| | Use 1 Legendary Hero Fragment(s) (excluding general Fragments) | 152,000 |
| | Use 1 Epic Hero Fragment(s) (excluding general Fragments) | 152,000 |
| | Use 1 Elite Hero Fragment(s) (excluding general Fragments) | 61,000 |
| | Consumes 1 Plasma Core(s) | 100,000 |
| | Use 1 minutes of Speedups on Construction (Excludes Alliance Timer Help) | 1,500 |
| | Use 1 minutes of Speedups on Research (Excludes Alliance Timer Help) | 1,500 |
| | Use 1 mins of Speedups on Troop Training/Upgrading | 1,500 |
| 3 - Troops Power Up | Increase Highest Chief Gear Badge Score by 1. | 3,500 |
| | Upgrading troops will gain you the power difference between the two troop tiers. | |
| | Train a Lv. 1 Soldier. | 135 |
| | Train a Lv. 2 Soldier. | 180 |
| | Train a Lv. 3 Soldier. | 270 |
| | Train a Lv. 4 Soldier. | 405 |
| | Train a Lv. 5 Soldier. | 585 |
| | Train a Lv. 6 Soldier. | 900 |
| | Train a Lv. 7 Soldier. | 1,260 |
| | Train a Lv. 8 Soldier. | 1,710 |
| | Train a Lv. 9 Soldier. | 2,250 |
| | Train a Lv. 10 Soldier. | 2,970 |
| 4 - Hero Power Up | Use 1 Hero Gear Parts | 5,000 |
| | Use 1 Hero Gear Designs | 45,000 |
| | Make 1 spin(s) in Ray's Place. | 400,000 |
| | Use 1 Legendary Hero Fragment(s) (excluding general Fragments) | 152,000 |
| | Use 1 Epic Hero Fragment(s) (excluding general Fragments) | 61,000 |
| | Use 1 Elite Hero Fragment(s) (excluding general Fragments) | 17,500 |
| 5 - Settlement Evolution | Consumes 1 Plasma Core(s) | 100,000 |
| | Use 1 minutes of Speedups on Construction (Excludes Alliance Timer Help) | 1,500 |
| | Use 1 minutes of Speedups on Research (Excludes Alliance Timer Help) | 1,500 |
| | Use 1 minutes of Speedups on Training/Upgrading | 1,500 |
| 6 - Chief Power Up | Increase Highest Chief Gear Score by 1. | 1,800 |
| | Upgrading troops will gain you the power difference between the two troop tiers. | |
| | Train a Lv. 1 Soldier. | 135 |
| | Train a Lv. 2 Soldier. | 180 |
| | Train a Lv. 3 Soldier. | 270 |
| | Train a Lv. 4 Soldier. | 405 |
| | Train a Lv. 5 Soldier. | 585 |
| | Train a Lv. 6 Soldier. | 900 |
| | Train a Lv. 7 Soldier. | 1,260 |
| | Train a Lv. 8 Soldier. | 1,710 |
| | Train a Lv. 9 Soldier. | 2,250 |
| | Train a Lv. 10 Soldier. | 2,970 |
| 7 - Hero Upgrade | Use 1 Elite Hero Fragment(s) (excluding general Fragments) | 17,500 |
| | Use 1 Epic Hero Fragment(s) (excluding general Fragments) | 61,000 |
| | Use 1 Legendary Hero Fragment(s) (excluding general Fragments) | 152,000 |
| | Gather 50 Food. | 3 |
| | Gather 50 Wood. | 3 |
| | Gather 10 Metal. | 3 |
| | Gather 2 Gas. | 3 |
Phase 4 – Jarrett
Phase 5 – Tyler Kurtz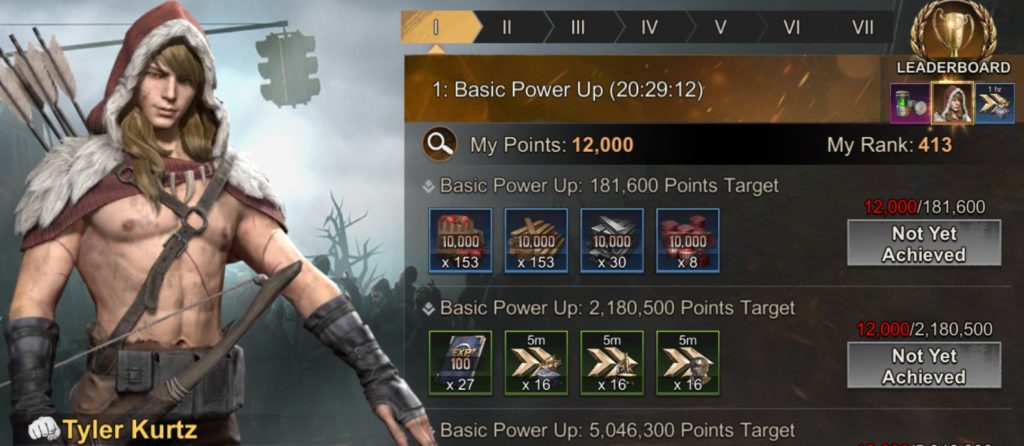 | Day | Objective | Points |
| --- | --- | --- |
| 1 - Basic Power Up | Consumes 1 Plasma Core(s) | 70,000 |
| | Use 1 minutes of Speedups on Construction (Excludes Alliance Timer Help) | 1,500 |
| | Use 1 minutes of Speedups on Research (Excludes Alliance Timer Help) | 1,500 |
| | Use 1 mins of Speedups on Troop Training/Upgrading | 1,500 |