Plasma Level Information from State of Survival Team:
Basics
Following the Capital Clash, Becca obtained confidential data regarding GigaCorp's Plasma Core tech. Doctor Yamazaki believes the Plasma Cores have played an important role in the development of GigaCorp's new weaponry. Furthermore, if a large enough number of Plasma Cores can be obtained, the development of the Settlement can be taken to the next level.
Once the HQ reaches level 30 and enough Plasma Cores are collected, Building Plasma Levels and Troop Plasma Levels can be unlocked.
Buildings and Troops with higher Plasma Levels are more powerful.
Plasma Buildings
Plasma Level is unlocked at HQ Lv.30. Upgrading the Plasma Level of certain Buildings will require Plasma Cores. Higher Plasma Level upgrades will required a greater number of Plasma Cores.
Plasma Level upgrades that require Plasma Cores are: Headquarters, Barracks, Garage, Range, and Hero Precinct.
Upgrading the Plasma Level of different buildings provides various effects. For example, HQ Plasma Level increases the March Capacity and undergoes an appearance change. Check the upgrade interface of each building for more details.
There will be 5 sub-level between Plasma Levels. The Plasma Level will only be upgraded when all 5 sub-levels are achieved. Sub-levels also provide upgrade effects. Check the upgrade interface of each building for more details.
Plasma Troops
Unlocking and upgrading the Plasma Level of Troop Training Buildings will also unlock the corresponding Troop Plasma Level.
Troop Plasma Levels can be upgraded when the Plasma Level of the Troop Training Building has finished upgrading.
Higher Troop Plasma Levels provide better basic stats.
Attaining certain Troop Plasma Levels will also unlock new skills, and the following Troop Plasma Level upgrades will also increase the effect of these skills.
The resource cost of training troops will remain the same as before the Plasma Level was unlocked.

Get paid to play State of Survival: Join Swagbucks to earn cash and gift cards just by playing State of Survival and other popular mobile games. Plus, earn even more free gift cards and cash by taking paid online surveys, watching videos, and surfing the web. Join Swagbucks today!
How to Upgrade Buildings with Plasma
Once your buildings reach level 30, you'll need Plasma to upgrade buildings any further. There are currently 5 buildings that you can upgrade past 30: Headquarters, Barracks, Range, Garage, and Hero Precinct. Each of these buildings can obtain "star levels" past level 30 starting with 1 star to 5 stars.
Star level work a bit differently from regular building upgrades. To upgrade a building to a star level, you'll need to upgrade it through 5 separate sub-levels, each with their own resource and plasma requirements. For example, to upgrade your Headquarters from level 30 to star level 1, each sub-level requires 132 plasma. So, you'll need 5 x 132 = 660 plasma to achieve a 1 star level Headquarters (scroll down to see the plasma requirements for all star levels).
Once you get your Headquarter to 1 star, you'll be able to start on the star levels for your Barracks, Range, Garage, and Hero Precinct. Like the Headquarters, each of these buildings requires going 5 sub-level upgrades (that requires plasma each time) before you get them to the star level. Plasma requirements for these buildings are also below.
Building Plasma Requirements
Headquarters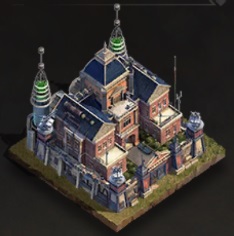 | Star Level | Sub Levels | Plasma Req for Each Sub-Level | Total Sub Level Plasma |
| --- | --- | --- | --- |
| Lv.30→⋆ | 5 | 132 | 660 |
| ⋆→⋆⋆ | 5 | 158 | 790 |
| ⋆⋆→⋆⋆⋆ | 5 | 238 | 1190 |
| ⋆⋆⋆→⋆⋆⋆⋆ | 5 | 250 | 1250 |
| ⋆⋆⋆⋆→⋆⋆⋆⋆⋆ | 5 | 284 | 1420 |
Troop Training Buildings: Barracks, Garage, Range

| Star Level | Sub Levels | Plasma Req for Each Sub Level | Total Sub Level Plasma |
| --- | --- | --- | --- |
| Lv.30→⋆ | 5 | 44 | 220 |
| ⋆→⋆⋆ | 5 | 53 | 265 |
| ⋆⋆→⋆⋆⋆ | 5 | 79 | 395 |
| ⋆⋆⋆→⋆⋆⋆⋆ | 5 | 83 | 415 |
| ⋆⋆⋆⋆→⋆⋆⋆⋆⋆ | 5 | 94 | 470 |
Hero Precinct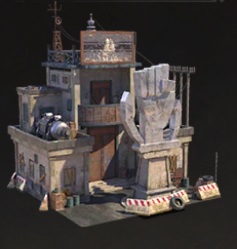 | Star Level | Sub Levels | Plasma Req for Each Sub Level | Total Sub Level Plasma |
| --- | --- | --- | --- |
| Lv.30→⋆ | 5 | 66 | 330 |
| ⋆→⋆⋆ | 5 | 79 | 395 |
| ⋆⋆→⋆⋆⋆ | 5 | 119 | 595 |
| ⋆⋆⋆→⋆⋆⋆⋆ | 5 | 125 | 625 |
| ⋆⋆⋆⋆→⋆⋆⋆⋆⋆ | 5 | 142 | 710 |