Dr. Yamazaki has made a technological breakthrough that recycles Discarded Components to recreate new Plasma Cores. Chiefs can get Discarded Components by completing tasks and through quick access, which can then be exchanged for bundles with multiple Plasma Cores.
Unclaimed Discarded Components will be sent to your Rewards Stash after the event, unused ones will be stored in your Backpack.
Overview
Regardless of your level of spending in the game, the Plasma Lab is the fastest and best way to get the plasma you need to upgrade your buildings' star levels. You can earn Discarded Components by completing tasks or purchasing them directly. Then you use the Discarded Components to exchange for Plasma Core bundles which contain various amounts of Plasma Cores.
Discarded Components
There are currently 3 ways to earn Discarded Components:
Complete tasks
Purchase with biocaps
Purchase with money
You can earn a total of 10 Discarded Components by completing tasks. The tasks are relatively easy and not anything outside what you normally do as an active player. You can earn 1 Discarded Component for every 10 stamina you consume (up to 5 total Discarded Components). Similarly, for every 5,000,000 resources you gather in the wilderness, you'll earn 1 Discarded Component (up to 5 total Discarded Components). Even if you just complete your intel and gather on a few resource nodes, you'll easily complete these tasks. Both F2P and P2W should complete these easy tasks for Discarded Components.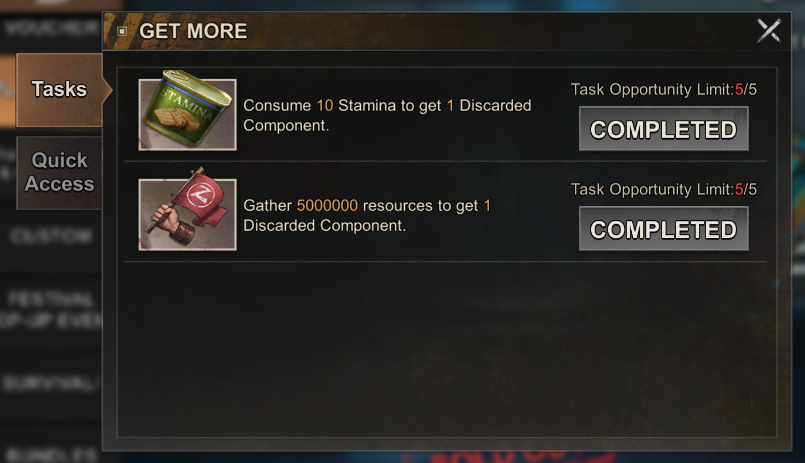 On the Quick Access tab, you have the option to exchange 500 biocaps for 1 Discarded Component (up to 10 times). So for 5000 biocaps, you can pick up another 10 Discarded Components. This is a great exchange since you'd have to complete 2-3 groups of daily intel to get the same amount of plasma cores, and as you'll see later, you can exchange components for plasma cores on a 1:1 ratio. Again, both F2P and P2W players should take advantage of this.
Finally, you can purchase bundles of Discarded Components directly (limit of 1 bundle per tier). Regardless of which bundle you purchase, the price-to-component value is the same, so purchase whichever levels you are comfortable with spending.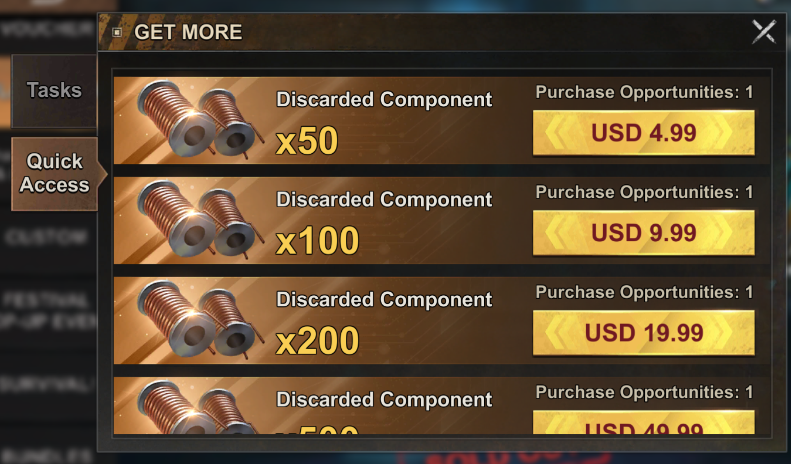 Plasma Core Bundles
Once you've collected Discarded Components, you have a few different options of Plasma Core bundles you can exchange the components for:
Simple
Common
Uncommon
Rare
Epic
The best Plasma Core Bundle that you should get is the Simple bundle. You can exchange components for this bundle up to 5 times, and each bundle requires 4 Discarded Components to get 4 Plasma Cores (as well as some speedups and resources, but the most important items are the Plasma Cores). If you didn't spend to purchase any additional Discarded Components, you can exchange all 20 of your components for 20 plasma cores with this bundle.
Get paid to play State of Survival: Join Swagbucks to earn cash and gift cards just by playing State of Survival and other popular mobile games. Plus, earn even more free gift cards and cash by taking paid online surveys, watching videos, and surfing the web. Join Swagbucks today!
Each of the other bundles (Common to Epic) can each be exchanged for 1 time, and they give you 1 to 10 Plasma Crates. These crates have chances to give you different amounts of plasma cores detailed below.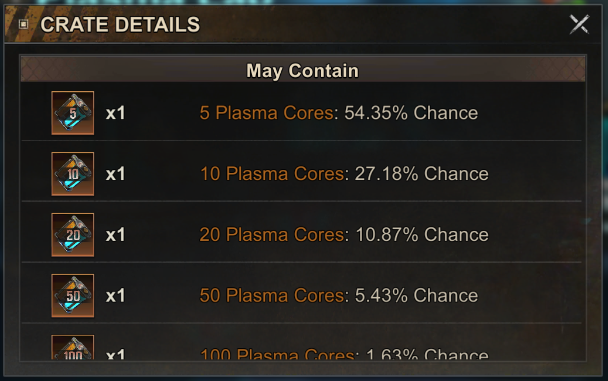 Given the crate has over 50% chance of having 5 plasma cores and only 0.54% chance of having 200 cores, these crates average around 13 plasma cores each (meaning if you open enough of these crates, your crates would average out to 13 cores per crate).
Ignoring any additional speedups or VIP points in the plasma core bundles, we can list out the rewards for the Common – Epic bundles and how many components they require:
Common: 18 cores + 13 cores from crates = 31 cores for 50 comps
Uncommon: 35 cores + 26 cores from crates = 61 cores for 100 comps
Rare: 70 cores + 52 cores from crates = 122 cores for 200 comps
Epic: 180 cores + 130 cores from crates = 310 cores for 500 comps
At the end of the day, all of the bundles (except Simple) give you approximately the same number of Plasma Cores: 61 to 62 Plasma Cores for every 100 Discarded Components. Make sure you spend your first 20 Plasma Cores on the Simple bundle to get the 20 Plasma Cores, then purchase any of the Discarded Component packs you are comfortable with and exchange them for any of the available Common – Epic bundles that you have available.