Gift Codes
New gift codes are posted regularly. Scroll down for the latest redemption gift codes.
Redeeming State of Survival redemption gift codes
Tap on your chief profile picture in the upper left corner, then tap on settings.

Tap on the Gift Redemption icon on the next screen.
Type in the redemption code and tap redeem. You should receive a message with your rewards if your code is valid.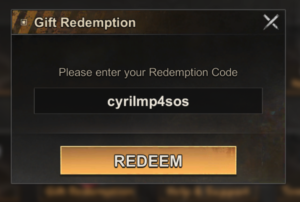 Updated Gift Codes
sospring
sos23rd
zodiacfrank
zodiacanimal
valentines2021sos
ruig30k
gorhappynewyear
hello2021
byebye2020
countdown
merrysoschristmas
xmasreunion
wilson
aesthetics
samsung
Baselalive
December
Thanksgiving2020
edinstvo
HappyHalloween2020
soswacken
zombieland
Haematom
halloween
AnniversaryHero
geburtstag
together
StateOfSurvival
AllesGute
happybirthday
Joyeuxanniversaire
POZDRAVLYAEM
1stYearParty
ilovesos
IGMASK
1442
Meilenstein
pikachuSOS
winieariany
bon14juillet